Tianjin Port SeaLand Logistics Company Zheng bin Visit Group
Date:2018-09-24 Issuer:admin View:
25
操作>>
On September 19, 2018, tianjin port sea logistics co., LTD., chairman of zheng bin, vice minister of tianjin port group container and sea logistics co., LTD. General manager Kong Weidong, tianjin port group co., LTD. Investment, vice minister of feng-qin wang, tianjin generation companies' hair manager Wang Kuijiang line to strategies such as land port group cooperation.Li haixia, chairman of fanglugang group, gave a warm reception.
Zheng bin (fourth from left), chairman of tianjin luhai logistics co., LTD., kong weidong (third from right), vice minister of container department of tianjin port group and general manager of luhai logistics co., LTD.Accompanied by the chairman of fanglugang group, chairman li haixia (second from right), the group was briefed by staff in the exhibition hall of the park
The two sides first in the shanxi strategic bonded logistics center on the third floor of the conference room.During the discussion, minister kong weidong said that the company has been cooperating with tianjin port for a long time, and the company has become a leader in the industry and a benchmark in the logistics industry. He thanked the company for its selfless sharing of development concepts and management experience.The future cooperation between the two sides is indispensable. We hope to explore other forms of cooperation and work for mutual benefit.Li haixia, chairman of the board, said that the cooperation between fanglugang group and tianjin port has a long history, and has been very smooth and fruitful. It is really inseparable from the great help and special support of tianjin port to the development of the company.Starting from last year, fanglugang group started to focus on its main business and consolidate its business. During this transformation and development, we hope to have tangible cooperation with tianjin port, break through the original mode and create a good start for later cooperation between the two sides.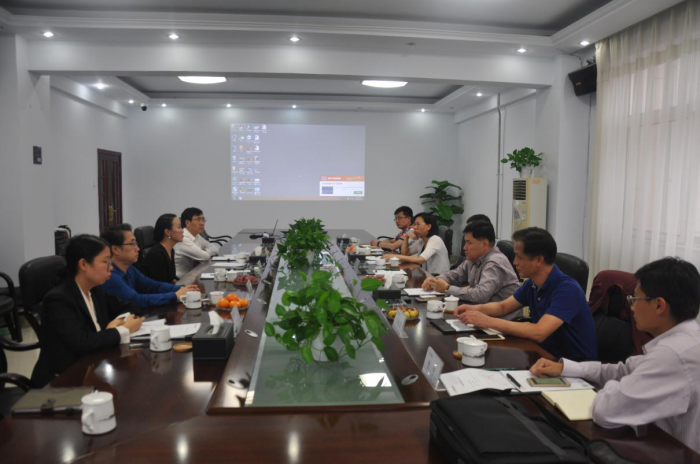 The two sides held a discussion in the meeting room on the third floor of shanxi provincial bonded logistics center
After the symposium, chairman zheng bin and his delegation were invited to visit the strategic bonded international land port area.Zheng bin, chairman of a line in the first place in the exhibition hall to listen to the staff about the group situation, development course, agglomeration advantages and business model is introduced, then the in-site visited the port areas under special customs surveillance zone, foreign goods port and bonded environment functional areas such as medical equipment, have a deeper understanding to the development of the park.