Fanglue Inland Port Group was founded in April 2007, with an investment of 5 Billion RMB.

Shanxi Fanglue Bonded Logistics Centre was formed under the joint authorisation of the General Administration of Customs, the Ministry of Finance, the State Administration of Taxation, and the State Administration of Foreign Exchange.

After this integration it allows us to benefit from an array of advantages in Policy, Function, Transportation, Funding, Industrial Exchange and last but not least in Channels; currently it is the only known privately owned Bonded Logistics Centre in China.

Fanglue Inland Port Group strategies are to operate consistently with bulk cargo industries, multi-faceted import/export exchanges, as well as consumer goods acquisitions and distribution. FL Group has radiated through the years with co-operations and businesses stretching from US, Europe and Australia. We as FL Group currently distribute more than 40 types of goods and commodities including: household chemicals, agricultural products, such as
fertiliser
s, grains, mechanical and chemical equipment, and bulk goods on the industrials side. And consumer goods such as: snack foods, health food, maternal and baby supplies, tobacco and spirits, wine, electronic products, books and magazines and in constant expansion.

Fanglue Inland Port Group has developed into a modern enterprise diversifying its business into International Purchasing, Trading and Logistics, Commodity Stock Keeping, E-Commerce, Internet Finance, IT, Culture & Heritage Restoration and Development, Real Estate Construction, and Investment Funding.

Shanxi Fanglue Bonded Logistics Centre is located in city of Houma, known nationally as one of the top five logistics centres in China. Houma is enclosed in this central development belt so in proximity to Linfen, Yuncheng, Jincheng and Hancheng; as well as being enclosed in the zoning development of the "Great Triangle" of Taiyuan, Xi'an and Zhengzhou.
Houma happens to be strategically included in the "Golden Cross" also know as the "Golden Triangle of the Yellow River" which consists of a network of railways and highways which criss-cross the central region of the country.

Houma therefore enjoys incredible advantages in communication and logistics.

The integration of supporting facilities such as Customs, CIQ, Foreign Exchange organisation, as well container transportation hub cohesively placed in one single location facilities drastically on efficiency of service, with a unilateral cooperation with ports, shipping flexibility, and freight forwarding companies. Agreement of "regional clearance" and "regional inspection" signed by Customs and CIQ between in Houma and at ports allows our hub to be equipped and function as a first-tier port.

Our Centre currently occupies an area of 2,500 acres, encompassing the port operations which has 6 special railways lines of 1,050 m each, with 'active' rail in service of 10.9 kilometres; standard warehousing of 250,000sqm and stacking platforms allowing storage of up to 500,000sqm and still expanding. Our warehousing has been equipped with the latest technologies in logistic service, a comprehensive monitoring system over the entire territory, an information processing centre, as well as customs supervised road transport fleet.

Within the facility we have the unique support of having in the same location the Joint-Inspection facilities of 360,000sqm; a Custom Supervised Area; a Merchandise Display Area; a Foreign Pavilions Wharf; a Commodities Trading Centre; a Distribution Centre; one of the largest Bonded Warehousing facility; Intelligent Storage Facilities; Bulk Cargo Area; Financing Inspection Office; a Food and Quarantine Centre; joint foreign cooperation support facilities; and finally our newly constructed R&D Centre. Currently we are the largest and most comprehensive complex of its kind in China.

Bonded Logistics Operations Division
The division operates with close cooperation with the ports of Qingdao, Tiajin, Rizhao and Lianyungang. The national Railway Administration has opened five lines from the ports to our Center, thus allowing us to achieve a seamless transit from international shipping ports to domestic transportation. In cooperation with China Customs, the inspection & Quarantine Bureau, Shipping Companies, as well as insurance firms; we are able to improve on providing services, drastically reducing logistic cost and time.
Industrial Supply Chain Logistics Division
The business scope of this division covers the purchase and sale raw materials, including items such as: iron ore powder, iron ore and other non-ferrous metal imports, coal, coke, wire, thread, steel, billets, slabs, pig iron and other steel products, steel scrap and dangerous goods; as well as the import and export business of commodities and technology; Foreign Trade and Transit Trade on Raw Materials. The division uses domestic and foreign supply, logistic partners and other top resources in the field, providing customers with value-added services throughout the whole purchasing process, with our core competitiveness in the constant solutions in logistic and trading efficiency.

Golden Triangle the Yellow River Trading Center Division
Relying on the industrial resources in the Yellow River Golden Triangle region rich, to trade, finance, logistics, large data support, with technology as the core competitiveness of the e-commerce using the most advanced industrial products, for the supply and demand of enterprises and circulation enterprises, form the Yellow River, Golden Triangle commodity supply chain service platform including spot trading, supply chain financing, logistics and distribution, warehousing management, information services.The manufacturers, suppliers, traders, terminal users, logistics service providers, financial services providers, technology service providers organic aggregation, Implementation of the four flow in one include logistics, business flow, capital flow and information flow, then efforts to build Shanxi the Yellow River Golden Triangle commodity trading center.
Armarium Operations Division
Division
We use our vastly reliable international team to source the best offers, the latest trends and goods from around the globe. With our ability in direct sales, marketing, we feed our Supply Chain Division with an extensive stock of goods to distribute nationally physical stores as well as E-commerce. Provide a solid support for the development of the group outside; adhering to the "health" of the service concept, wide selection of global medical equipment quality to carry out bonded exhibition and trade for better meet consumers' increasing demand for material culture and healthy living needs.
Network Technology Operations Division
With domestic and international mainstream IT software and hardware suppliers, import goods suppliers, logistics service providers. Relying on professional design, development, procurement, maintenance and business operations team, high-quality resources group based on international trade, bonded warehousing and foreign goods wharf, development and operation of the first "surplus" cross-border electronic business platform "Overseas Shopping Mall of Fanglue inland port group" through online and offline mode, build online Overseas Shopping Mall business platform wholesale channels , retail channels; offline wholesale and retail channels, bonded direct-sale store, with no pesticide residues, non GMO, health quality, enjoy life" for the consumer providing "high-quality, excellent health, low price, good service" Overseas Shopping Mall products services of new mode, to achieve complementary ecological purchasing wholesale, retail, logistics, finance, and efforts to create consumer goods wholesale center in the central-western china.
Culture Development and Real Estate Construction Division
Is the group culture and the real estate enterprise specific enforcement agencies, relying on the Shanxi culture and bonded logistics center, special function and policy, Will start bonded culture product auction project; Relying on the group cultural product design and cultural activities planning advantages, Will start cultural products characteristics; Through to the Yellow River culture inheritance, combined with the western culture, Will start cultural tourism project; Relying on the group cultural resources advantage, technology advantage has construction antique trading platform. Real estate construction according to the group makes the high-quality project requirements, the construction of International Pavilions wharf project and International Pavilions street project.
Location advantage:
Group is located in "China's five major logistics hub" of houma, Shanxi Province, located in linfen, yuncheng, jincheng four administrative center, Seoul, is also the capital of taiyuan, xi 'an, zhengzhou three "triangle" composite affected zone;At the same time, in the Beijing and tianjin, the Yellow River delta wing integration strategic areas such as cooperation demonstration zone;Railway, highway, state road here to form three "cross of gold";All the way in the "area" important node;From linfen, yuncheng airport airport 70 km, the formation of radiation global air transport ability;In the new north road, in the middle of the major roads, railways and ports, ports, highways, railways abroad directly connected, forming the pattern of the west, east, north, south.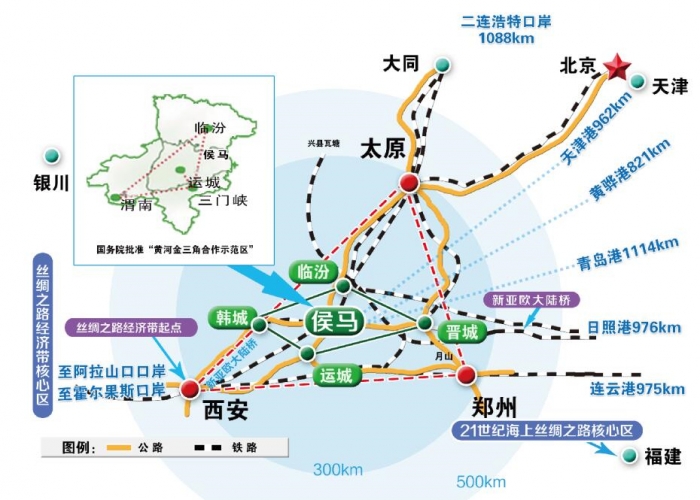 West: direct ala shan kou, huoerguos port, connecting Europe;
East: direct from tianjin port, rizhao port, Qingdao port, connecting the sea lanes;
North: direct port, connection outside receive;
South: direct xiamen, quanzhou, fuzhou port, and connect the maritime silk road and South Asia.
What is well versed in, connecting the north and the south of the throat area.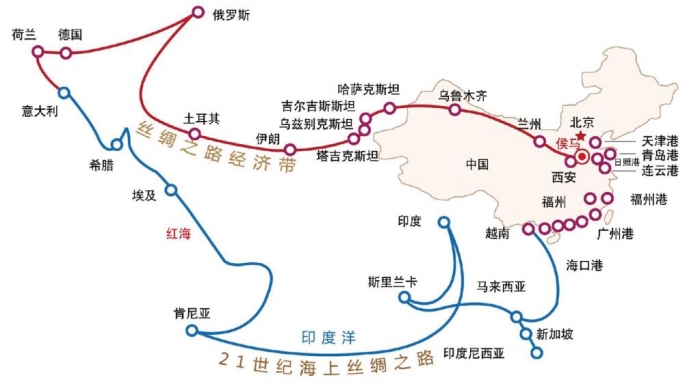 "Area" important node state

Group adjacent to the north China's largest railway marshalling station, map of houma north marshalling station, the 2000 - ton steel base, north China's largest production base, the country's largest copper chromium alloy production base, the national top ten one of the chemical fertilizer production base, etc., with ports open international container multimodal transport large column and "five trains", the location and traffic obvious advantages, is the nation's largest railway port stations with compound functions.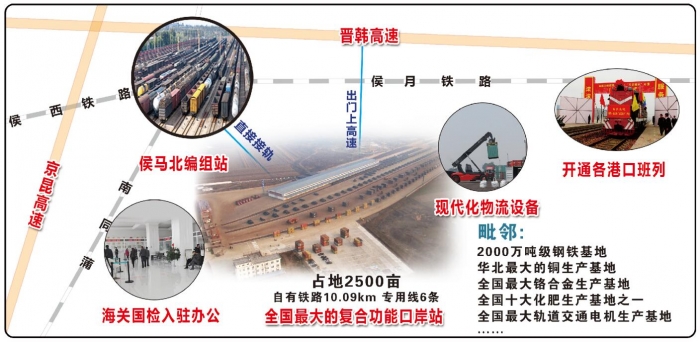 Organization structure: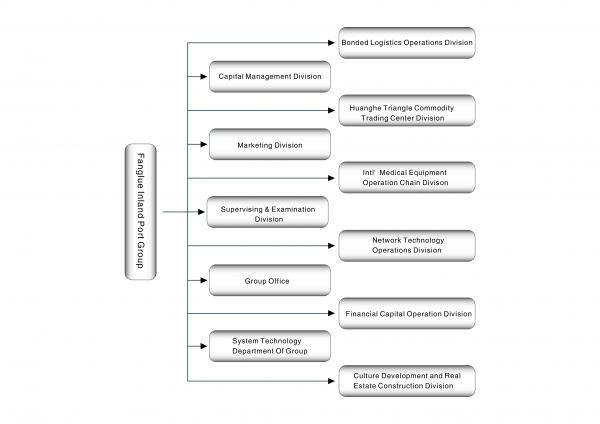 Organizational structure diagram